Cleanliness Container Washer,
Born From Our Total Sanitisation Concept.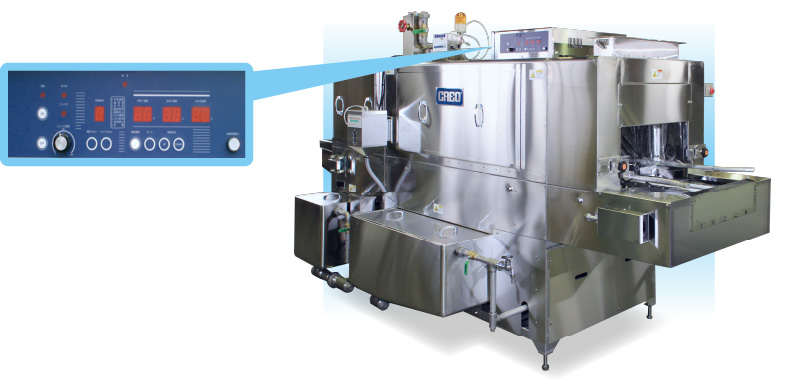 Control panel with touch screen

Present operating conditions can be seen in one glance at the panel display. Temperature adjustment of washing tank can also be operated on the panel.

Speed control by freq. inverter

Equipped with freq. inverter as standard, capable of easy motor-rotation adjustment.
More reliable washing can be done by freely adjusting the conveyor speed corresponding to the degree of contamination.
Clip-on nozzle

It is easily cleanable even if clogged, as it is easily detachable without tool.
Drawer type strainer and tank

The machine can always be kept clean by virtue of the fact that the strainer is easily detachable.
Hygienic management for washing is possible, because water temperature in washing tank is always retained at a constant temperature.
Specifications
Model Name
SDC115
SDC215
Attitude of container when loading
Upside down
Upside down
Max. processing capacity (units/hour)
300-600
600-1000
Dimensions of main body
Length (mm)
3260
4660
Depth (mm)
1405
1405
Height (mm)
1815
1815
Total electric capacity
3-phase 200V (kW)
4.15
7.85
Motor capacity (kW)
Washing pump no.1
3.7
3.7
Washing pump no.2
―
3.7
Rinsing pump
0.25
0.25
Conveyor drive
0.2
0.2
Washing tank capacity (L)
270
465
Water consumption (L/min)
20
20
Steam consumption (*1) (kg/h at 0.3Mpa)
130
150
Evacuation (*2) (m3/min)
25
25
Permissible container size
Length×Width×Height
Max. (mm)
700×500×300
700×500×300
Min. (mm)
300×300×50
300×300×50
Utilities tie-in
points with primary side
Water supply, by union
25A×1
25A×1
Steam supply, by flange
25A×1
25A×1
Drainge from tank, by tee joint
40A×2
40A×3
Evacuation, by flange
550×120 (2 places)
550×120 (2 places)
Electricity
Interconnection terminals in control box
Interconnection terminals in control box
(*1) Steam consumption differs depending on usage conditions. Contact us for more information.
(*2) Install exhaust air treatment with 90% relative humidity or more to allow for steam production.
* Dimensions, specifications, appearance, and other aspects of the product may be changed for improvement purposes.